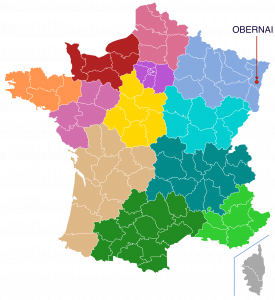 VVF d'Obernai
2 rue de Berlin
BP 43
67212 Obernai
Tél. : 03 88 49 45 45 / Fax : 03 88 49 90 32
Google Maps
Latitude : 48.465029 / Longitude : 7.468554
How to reach Obernai by plane:
Strasbourg-Entzheim airport offers around thirty regular destinations from 11 French cities and 18 international cities. 5 minutes walk from the airport is the SNCF train station in Entzheim, from where you can reach Obernai in about 20 minutes (€4.70 per ticket). For the train schedules between Entzheim Airport and Obernai, see here.
How to reach Obernai by train:
Obernai station is accessible from Strasbourg (€6.80 per ticket) in 30 minutes by the « Strasbourg-Obernai-Barr-Sélestat » line which also serves Entzheim-Airport station (one train every ½ hours during the week and every hour on weekends).
How to reach the VVF from the Obernai railway station:
on foot (2km, about 25 min)
by bus thanks to Obernai's urban transport (Pass'O): sky blue Pass'O shuttles run from Obernai station to the campsite (located close to the VVF) every 20 minutes in around 10 minutes (€0.80 per ticket, on sale to bus drivers). The service runs from Monday to Saturday included from 6h30 to 21h (but not on Sunday).
by cab: Taxi Griesbaum 00333 88 95 03 84 / Taxi Christophe 00336 08 26 55 69 / Taxi Beutel 00336 07 39 13 07
To coordinate the different modes of public transport in Alsace, consider using the site Fluo !
Some trains to arrive on Monday Mai 30th:
Paris-Strasbourg : 10h55-12h41 Strasbourg-Obernai : 13h10-13h44
Lyon Part Dieu-Strasbourg : 10h04-13h43 Strasbourg-Obernai : 14h10-14h43
Some trains to leave on Friday June 3th:
Obernai-Strasbourg : 13h16-13h48, Strasbourg-Paris : 14h46-16h35
Obernai-Strasbourg : 14h45-15h14, Strasbourg-Lyon Part Dieu : 16h14-19h56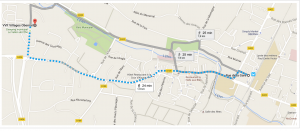 The conference room:
In the conference room, there are three chalk blackboards of size 2m x 1m, as well as a video projector.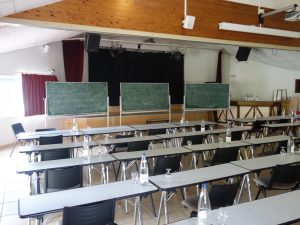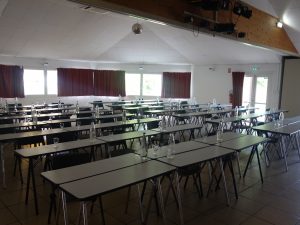 Hiking on Wednesday afternoon (free):
You can walk to the Mont Sainte Odile (around 20km). Download the GPX trace here.
With the financial support of the CNRS, the Grand Est region and the city of Obernai